Canada is caught up in a full-blown bubble that is strikingly similar to Australia's bubble. Canada's bubble is based on a commodities export boom (which is part of the commodities bubble), a massive housing bubble that is larger than the U.S. housing bubble was at its peak, a household debt bubble and global "hot-money" investment inflows.
Canada has an abundance of natural resources, from oil to grains to metals, all of which have seen soaring demand and record prices due to the China and commodities bubbles. So much "funny money" is flowing in the oil sands region of Alberta that prostitutes are making $15,000 per week. Canada faces severe economic risks posed by the eventual popping of these bubbles.
Canada Has a Massive Housing Bubble
Canadian Property Price Index: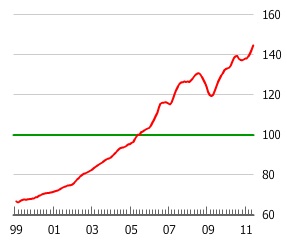 Chart Source: GlobalPropertyGuide.com
A rational person would assume that Canadians have learned from the housing bubble mistakes of their American neighbors, but think again – Canada's housing bubble is now nearly 40% larger than America's bubble at its 2005 peak. Price-to-rent ratios, a common real estate valuation measure, are flashing clear warning signs of a bubble as well. Even the IMF is warning of a Canadian housing bubble (but seems to understate the extent of the bubble and its risks as "official" organizations tend to do). Vancouver homes are now pricier than NYC homes, thanks partly to Chinese investors. $1,050,000 will only buy a tiny house that is merely "livable" in Vancouver, where median real-estate prices are an astounding 9.5 times median household income. The popping of Canada's housing bubble can easily result in a Canadian version of the Lehman Brothers crisis as Canadian banks are some of the most leveraged in the world.
Canadians Are Binging on Debt
Booming commodities exports and skyrocketing housing prices are encouraging Canadians to spend far beyond their means, while binging on credit, mimicking their American neighbors' profligate behavior of six years earlier. (they're thinking, "Canada is different!") RBC Global Asset Management's chief economist warns that Canada's record household debt could "spell its undoing," while Moody's warns that Canadian banks face significant risk due to their exposure to overleveraged Canadian consumers. Maybe things really are different in Canada, where a group of under-21-year-olds got caught by the police for racing $2 million worth of exotic supercars, including Ferraris and Lamborghinis. Or not.
Relatively high-yielding bonds and other investments and perceived economic stability has attracted "hot money" investment inflows into Canada from low-yield (low interest rate), but capital-rich nations, US and Japan. Undoubtedly, the bonanza of hot money flowing into Canada is helping to inflate the housing and household debt bubbles. The problem with hot money is that it has a tendency to reverse on a dime and flow straight back to where it came from, which will exacerbate the popping of Canada's bubble as credit dries up.
Canada's Bubble Has Boosted the U.S. Economy
Canada's bubble-induced economic strength has helped to cushion the Great Recession's blow to the US economy as the two nations have a very extensive economic relationship, with Canada being the U.S.'s largest export market, at nearly 20% of exports; U.S. exports to Canada have soared since 2009. The risks posed by the popping of Canada's bubble are no trivial matter for the already suffering US, and thus global, economy.
The fact that Canada is experiencing such a blatant bubble so soon after the US's epic bubble is proof that Canadian and global investors have not learned from their mistakes and are doomed to repeat them. Just how many more nation-bankrupting bubbles must the world experience before it learns its lesson?
Canada Bubble & Canadian Housing Bubble-Related Resources:
List of Canada Bubble & Canadian Real Estate Bubble Articles (on TheBubbleBubble.com)
Canada's Housing Bubble – Analysis & news of the Canada real estate bubble
The Greater Fool – Blog covering the Canadian property bubble
The Economic Analyst – Canadian economist Ben Rabidoux' website covering Canada's bubble economy
Canadian Housing Price Charts – Canadian housing price charts & other data, plus Canada housing bubble-related commentary.
Housing Analysis – Blog providing analysis of the Canadian real estate market and housing bubble.
World Housing Bubble – Blog covering Canada's housing bubble & other related bubbles.
The Village on Edge of the Rainforest – Blog covering Vancouver's housing bubble.
Vancouver Real Estate Anecdote Archive – Blog publishing anecdotes from Vancouver & Canada's housing bubble.
Alberta Bubble Blog – Blog covering Alberta & Canada's housing bubble.
House Hunt Victoria – Blog covering Victoria, B.C. & Canada's housing bubble.
---
Questions? Comments?
Click on the buttons below to discuss or ask me any question about these bubbles on Twitter or Facebook and I will personally respond:
---
Comments
comments
Powered by Facebook Comments