By Jesse Colombo (This article is frequently updated)
Finland's housing bubble is a part of the overall Post-2009 Northern & Western European Housing Bubble that has inflated because of the strong investment inflows that these countries have attracted since the Global Financial Crisis due to their perceived economic safe-haven statuses, serving to further inflate these countries' preexisting property bubbles that had expanded from the mid-1990s until 2008.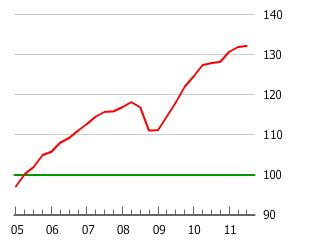 Chart Source: GlobalPropertyGuide.com

Finnish property prices soared a dizzying 250% from the mid-1990s to 2008 [1], dipped slightly in the 2009 recession and bolted 20% higher as Finland and other Nordic countries recovered from the recession faster than their European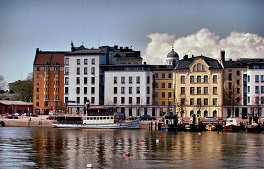 neighbors to the south. The Finnish property bubble is being fueled by a mortgage market in which a jaw-dropping 90% of loans are of the highly dangerous adjustable rate variety, while banks are taking a page straight out of the U.S. housing bubble as they push reverse mortgages on their elderly customers. A Finnish bank advertisement for reverse mortgages even shows a cartoon person taking a vacation paid for with cash withdrawn from an ATM that is attached to their house! [See cartoon] It is as if nobody has learned a thing from the U.S. housing bubble – the saying, "those who don't learn from history are doomed to repeat it" could not apply to a better scenario than the Finnish housing bubble.
Finnish Housing Bubble Articles List
---
Questions? Comments?
Click on the buttons below to discuss or ask me any question about these bubbles on Twitter or Facebook and I will personally respond:
---
Comments
comments
Powered by Facebook Comments