By Jesse Colombo (This article is frequently updated)
The London & UK housing bubble is a part of the overall Post-2009 Northern & Western European Housing Bubble that has inflated because of the strong investment inflows that these countries have attracted since the Global Financial Crisis due to their perceived economic safe-haven statuses, serving to further inflate these countries' preexisting property bubbles that had expanded from the mid-1990s until 2008.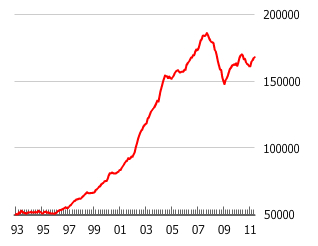 Chart Source: GlobalPropertyGuide.com

UK housing prices have nearly quadrupled from the mid-1990s to 2008, briefly fell 20% in 2009 and have since rebounded enough to keep property prices firmly in the stratosphere. UK property prices are very overvalued, currently valued at 128% of their historic price-to-income ratio and 140% of their historic price-to-rent ratio. [1] In a pattern similar to France, the UK housing bubble (since 2008) has been primarily driven by price gains in the capital city of London. Prime London housing prices rose a hearty 11.4% in the 12 months to October 2011 [2], up 40% from their post-credit crunch low [3], while most other investment markets fell in a very volatile year.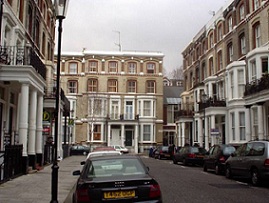 Like Paris, the city of London has such a strong level of international "brand recognition" and a perceived safe-haven status that wealthy foreign investors are clamoring to buy property in prime areas such as central London. "London property is the 'Swiss bank account' of the 21st century," says Robin Hardy, an analyst at London investment firm Peel Hunt. Rich people in places like Egypt, Syria and southern Europe are rushing to get their money away from the turmoil, and for want of a better alternative, they are plunking it down in the "millionaire's playground" of central London. [4] The nouveau riche of China, India and other emerging markets are also keen on diversifying their wealth into prime Western property markets such as London, Vancouver and Manhattan, while one hedge-fund manager said that London property was a "laundromat for Russian money." An entire generation is locked out of the city's broken and outrageously-bubbled housing markets as the average Londoner would need to triple their salary to £87,000 to buy an average price property. [5] The prime London property bubble is highly vulnerable to the popping of the precariously-teetering China and emerging markets bubbles as well as job losses and decreasing bonuses for City of London financial workers. [6]
UK and London Housing Bubble Articles List
---
Questions? Comments?
Click on the buttons below to discuss or ask me any question about these bubbles on Twitter or Facebook and I will personally respond:
---
Comments
comments
Powered by Facebook Comments